Carolyn Snell Designs
June 2020
Watershed Floral
July 2020
Plant Office
Early August 2020
Runaway Bunny
Mid-August 2020
Bad Rabbit Flowers
Late August 2020
Broadturn Farm
September 2020
With this body of work, I especially want to blur the lines between fine art, design, and the creative work that goes into farming. I hope to present an optimistic look at the future of making local, sustainable, and creative choices for our lives and our shifting relationship to the natural world.
Additional Paintings:
These paintings grew out of site visits to some of the designers farms, my bouquet of the month subscription with Carolyn Snell, things picked up from the farmers' market, as well as flowers grown in my own and friends' gardens.
To purchase or with any questions and comments, please email me at [email protected]. All pieces are currently unframed. Prints of select pieces will be available soon in my Etsy shop.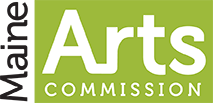 This project is funded in part by a grant from the Maine Arts Commission, an independent state agency supported by the National Endowment for the Arts.