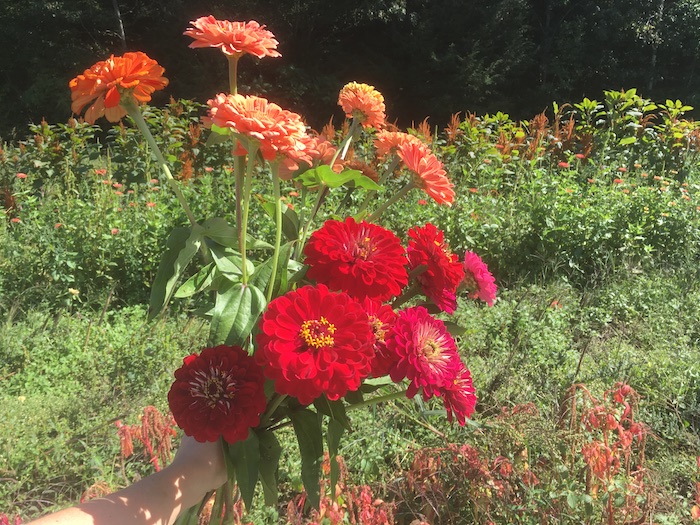 I'm not sure exactly when it first occurred to me, but the idea for this project has been in the back of my mind for some time now, and I do have a clearer memory of the places and people who shaped it.
My first flower shop job, in 2016, was at Fleurant in Kennebunk, ME. Melissa gave me the job with no prior experience, apart from my art school degree — she herself had studied sculpture at MECA and trained me in her own intuitive approach.
I began bringing flowers home to paint, often. And curiously studied the way other designers use flowers like brushstrokes, so that their hand and eye are present in the arrangement as a whole. When I moved to Brooklyn, I worked at a few shops including Opalia where I gathered more technical knowledge and saw how even in the city you can get local flowers from nearby Long Island and Hudson Valley farms.
Back in Maine, I began growing my own flowers. Sometimes the mass-produced flowers from the market were so uniform that, though beautiful, they became less interesting to me. Then last summer, I had the opportunity to work for Carolyn Snell, a local flower grower and designer. Flower farming is both more intricate and imprecise than I imagined. Some crops, like dahlias, need rigorous attention while others, like amaranth, are quite happy to outcompete weeds. Ultimately, flowers want to grow. And Carolyn grows them spectacularly, with such joy.
While working there I thought about the parallels between painting and floral design and the creative work that goes into farming. It was while harvesting in the fields that I continued to turn over this idea in my mind, and solidify a daydream into a real plan. I had been painting my own arrangements, and certainly absorbing others' stylistic influences. I love the way Maine flower growers and designers lift each other up more than they compete. I feel compelled to explore further, trying to translate their design work into my own paintings, and learning more through this visual conversation.